From CNN's Konstantin Toropin
Canyon Creek Memory Care, an assisted-living facility in Billings, Montana, was offered free, voluntary surveillance testing for residents and staff in May but declined, health officials said.
Now, almost all of the facility's residents and some staff have Covid-19 and eight residents have died from the virus, officials said
On July 3, Canyon Creek Memory Care conducted Covid-19 testing on all of its residents and staff, according to a statement by Koelsch Senior Communities, the company that runs the facility.
The company said last week that 59 residents and 55 staff members were tested. Of those tested, 43 residents and 15 staff members tested positive for novel coronavirus.
Now, at least 55 residents and 36 staff members have tested positive, Pat Zellar, a spokesperson for RiverStone Health, Yellowstone County's public health department, told CNN.
CNN has reached out to Koelsch Senior Communities for a comment or explanation as to why the free testing was declined but did not immediately hear back. 
Montana has reported 34 Covid-19-related deaths to date, according to state data. Yellowstone County has 13 deaths to date, according to a RiverStone statement.
The eight deaths associated with the facility make up almost 25% of the state's death toll and more than 60% of the county death toll.
From CNN's Lauren Mascarenhas
Dr. Anthony Fauci addressed some of the factors that have led to a disproportionate impact of Covid-19 on minority groups in a Georgetown University event Tuesday.
He said that minorities often have limited economic and employment opportunities, and work more often in jobs that expose them to infection.
"They have less of a chance of sitting in front of a computer teleworking, as opposed to being outside with jobs that require exposure, so their chances of getting infected are greater than the general population," he said. 
Fauci added that comorbidities, such as diabetes, high blood pressure and heart disease, also play a role.  
"When they do get infected, given the social determinants of medicine that have been around for so long, they have a much greater incidence and prevalence of comorbidities, which lead to a poor outcome," he said.
Fauci said it is important to start concentrating resources in minority communities, "so that they could have easy access to testing, better access to health care. So that if and when they do get infected they can get into proper care early enough to maybe mitigate some of the negative consequences." 
Eliminating health disparities will require a decade-long commitment, he said.
"You're not going to do that overnight. There are so many things that you can do to modify the reasons why they have more hypertension, they have more diabetes, they have more obesity," said Fauci. "So we can do stuff now, and we can make a commitment to do things in the long run."
From CNN's Jen Christensen
Dr. Anthony Fauci, the nation's top infectious disease expert, said some countries have been more effective at managing the pandemic than the US because they shut down almost entirely. That could not happen in the US, with 50 different states as well as territories.
"We have a very large, in a very heterogeneous country, with different risks, in different places geographically and demographically. And in reality, even though we locked down considerably, we only locked down, the estimate is somewhere around 50 to 55% or so," Fauci said Tuesday during the Georgetown University Global Health Initiative webinar.
The US relies on the independence of states and that works to the country's advantage in other circumstances, Fauci said. "Possibly, that really was a little bit of disadvantage here," Fauci said. "Very difficult to make a definitive comment about the contribution that paid for the difference between what we see here and what we see in Europe."
When Europe first had an outbreak and the cases peaked, countries there were able to drive down transmission because they were truly locked down, Fauci said. "They really did go down from thousands of infections to handfuls or so of infections; whereas in the United States, if you look at our curve, for better or worse, we went up. We peaked. We came down and we never really came all the way down to baseline."
The US stayed around 20,000 new cases a day, until the most recent surge and then the cases numbers went up to about 60,000 a day.
"So, the issue is we never got down to the baseline. So that when you started to open up, you had relatively few amounts of infections to deal with, whereas when we opened up now, you're seeing the surge."
Texas reported 10,745 new Covid-19 cases on Tuesday, a record high daily number. 
The state has a total of 275,058 Covid-19 cases, and at least 3,322 people have died from the virus. 
Note: These numbers were released by the Texas Health and Human Services, and may not line up exactly in real time with CNN's database drawn from Johns Hopkins University and the Covid Tracking Project.
From CNN's Jennifer Henderson and Jamiel Lynch
In a graphic shared on Twitter, the North Carolina Department of Health and Human Services described how Covid-19 spread through nine families and eight workplaces after a gathering of more than 20 people with no masks and no social distancing in Catawba County.
The graphic depicts how far the virus spread in 16 days.
"This is how #COVID19 spreads. In Catawba County, a gathering of 20+ people w/ no masks or social distancing led to 14 people becoming infected. Those people were unaware they were infected. This set into motion a chain that affected 41 people in 9 families & 8 workplaces," the tweet read.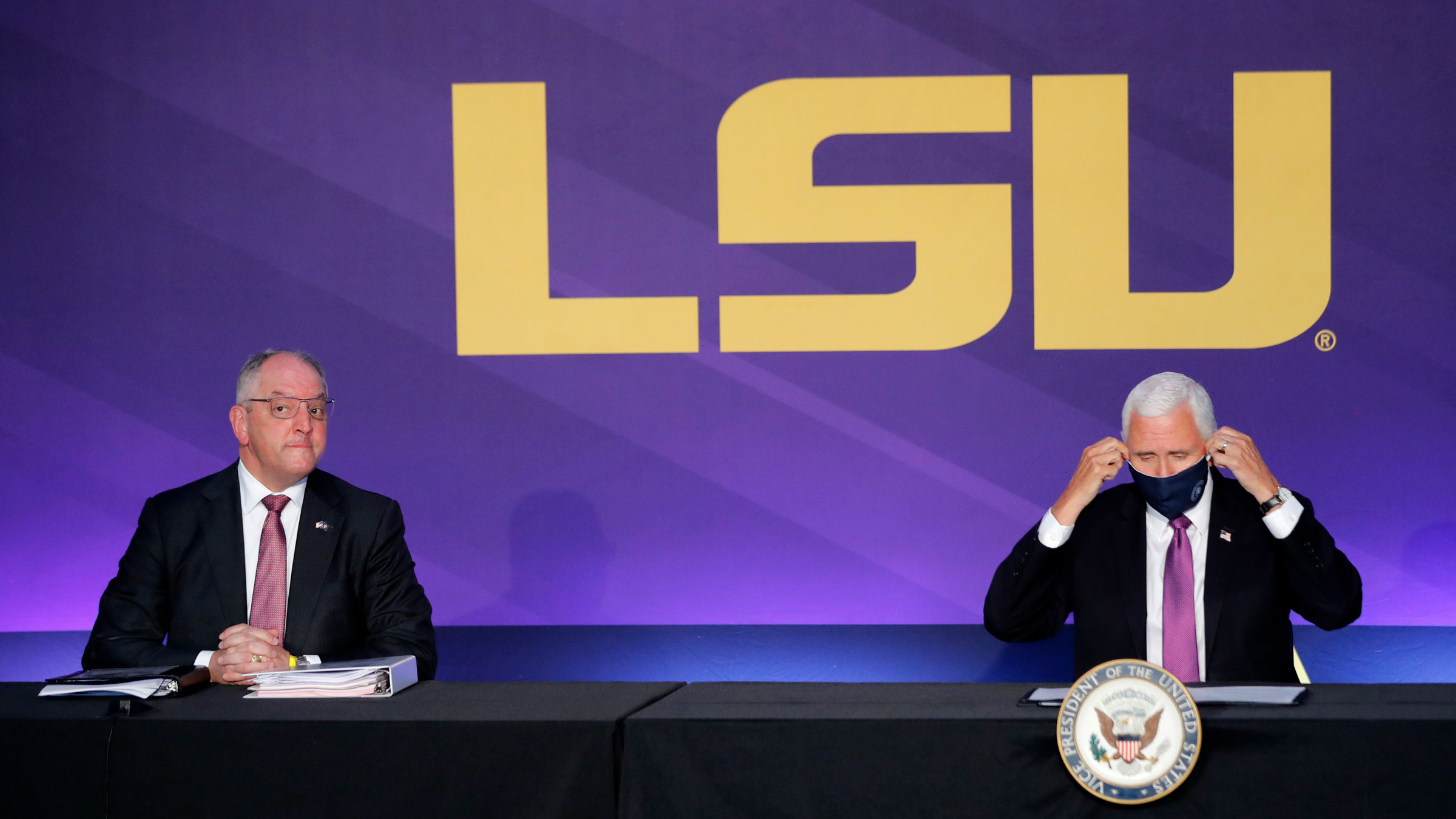 Louisiana's governor and US senators joined Vice President Mike Pence and key members of the coronavirus task force in a news conference Tuesday — but it quickly became clear they all have different priorities when it comes to reopening schools.
Democratic Gov. John Bel Edwards told reporters state officials are still deciding whether public schools will be able to return to in-person instruction in the fall.
"Our plan is to open as many... as we can safely do," Edwards said. "It's not going to be easy, and not without controversy."
But GOP Sen. John Kennedy expressed assurance that schools should have kids back in classrooms in the fall.
"Germany, France, Sweden, Denmark, Norway, Austria, South Korea, Japan — even Vietnam, for God's sake — have opened their schools, and they've done so safely," Kennedy said. "And so can America, and so should America."
After the governor said Louisiana would be looking to the Centers for Disease Control and Prevention to help them make a decision on schools, Pence responded: "We don't want CDC guidance to be a reason why people don't reopen their schools ... but we support Gov. John Bel Edwards and his health officials' decisions, and we courage people to heed the guidance of state and local authorities."
From CNN's Jen Christensen and Lauren Mascarenhas
Young people's behavior is playing a key role in some of the resurgence of Covid-19 cases in the Southern states, and they need to take their societal role much more seriously, Dr. Anthony Fauci said Tuesday.
"Everybody has a place and a role in getting this outbreak under control, and you're not caring whether you get infected or not, is not a good way to get the outbreak under control," Fauci said Tuesday during a Georgetown University Global Health Initiative webinar. "
To get it under control means you don't let yourself get infected and you don't spread to anybody else," added Fauci, who is director of the National Institute of Allergy and Infectious Diseases.
Fauci said he has watched video of young people at bars and other crowded places, congregating and not wearing masks, and while he said it is "understandable" that people would rather be "sipping a Margarita" than staying home.
"What they need to understand is that given the nature of this outbreak, even if you get infected and have no symptoms at all, and never get sick, you are inadvertently propagating the pandemic," he said.
"I say that with some trepidation, because I'm not blaming anyone and I think people do this innocently. They don't mean to be part of the problem, but inadvertently, they are a part of the problem," Fauci said.
A French team has reported transmission of Covid-19 across the placenta after a mother become infected during the last trimester of pregnancy.
Both the mother and her newborn tested positive for coronavirus, according to the report, published Tuesday in the journal Nature Communications.
The woman was admitted to a French hospital in March with symptoms including fever and a severe cough. Genetic evidence of coronavirus were detected in her blood and in nasopharyngeal and vaginal swabs. Doctors decided to deliver the baby by cesarian section.
Tests also detected SARS-CoV-2 in the newborn. And days after birth, the child also developed neurological complications, including irregular muscle contractions. The infant's cerebral spine fluid tested negative for coronavirus or any other germ. At 11 days after birth, an MRI of the child's brain showed abnormalities in some white matter regions.
Analysis of the placenta detected coronavirus at much higher levels than in either the mother's or child's blood or in the intact amniotic fluid surrounding the fetus before birth. That suggested to the researchers that the virus crossed the placenta and infected the baby in the womb.
The mother was discharged in good condition six days after delivery, and the child was discharged after 18 days. Roughly two months later, the child showed improved neurological condition with an otherwise normal clinical exam, the researchers reported.
Other researchers have described potential Covid-19 transmission during the period immediately before or after birth. The authors of the Nature Communications study said these cases had unaddressed issues, such as an unclear route for transmission of the virus. 
"It is important to clarify whether and how SARS-CoV-2 reaches the fetus, so as to prevent neonatal infection, optimize pregnancy management and eventually better understand SARS-CoV-2 biology," they wrote.
From CNN's Natalie Gallón, Karol Suarez and Paula Newton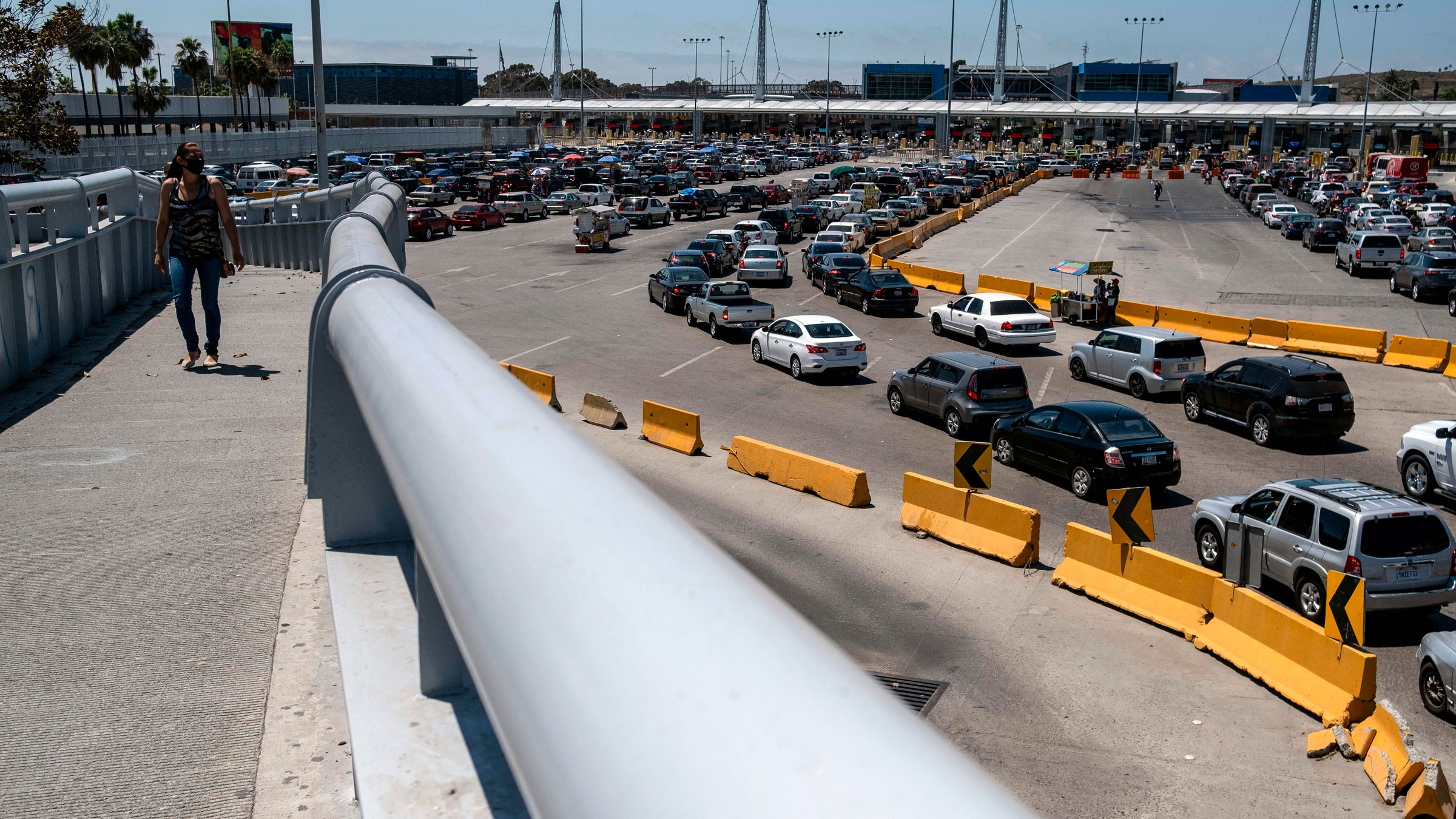 Mexico is extending for the third time its US border restrictions until August, according to the Mexican Foreign Ministry. 
"After checking the rise of the COVID-19 spread, Mexico proposed to the US the extension of all non-essential traffic restriction at the common border for 30 more days," the Foreign Ministry announced on its official Twitter account Tuesday.
The restrictions will continue under the same terms it was first implemented on March 21, permitting essential travel.
"Both countries will continue looking to coordinate the sanitary measures at the border region. The measures will be valid until August 21, 2020," the ministry added.
This comes after Mexican President Andrés Manuel López Obrador said the pandemic "is losing intensity" after meeting with his health cabinet on Sunday.  
"I want to tell you that the report is positive, is good, the conclusion is that the pandemic is decreasing, is losing intensity," López Obrador said in a video address to the nation.
The US border with Canada border is also expected to remain closed until at least August 21, two Canadian government sources with knowledge of the situation told CNN, extending the ban on nonessential travel between the two countries for another month.
The extended restrictions will include stepped-up enforcement and surveillance at most Canadian land borders in the coming weeks, said the sources, who spoke on condition of anonymity as they are not authorized the speak publicly on the matter.